Romail Gulzar FRSA with the Lord Lieutenant of Leicestershire, Mike Kapur OBE
Always In Our Thoughts is a national campaign to remember those that have lost their lives; those that have lost their loved ones; and the front-line workers that have dedicated their lives to keeping others as safe as possible. 
As we approach the anniversary of the first lockdown that began on 23rd March 2020, we decided that now would be the best time to consider marking this important moment in our country's history. Converting our shared national grief and sadness into something positive in the form of charity and kindness is something we are passionate about.
For this national campaign, we are selling badges depicting a small yellow flower. You can purchase these for the suggested price of £1 in numerous areas around the country. All the money that we generate from the sale of these badges will go towards our two chosen causes that have been a beacon of light in the darkness of the past year. These causes are The Care of Police Survivors (COPS) charity, and the Leicestershire Children's Hospital Appeal.
COPS supports the families of police staff that have passed away. Supporting this campaign is trustee of COPS and chief constable of Leicestershire Police, Simon Cole. "Those who have been impacted by COVID are always in our thoughts." said Simon. "This campaign is a way of putting something back as we remember those that we have lost, those who have suffered and those who have served. My police colleagues have been at the forefront throughout. Care of Police Survivors charity is trying to support the families of those from policing who have lost their lives, and as a Trustee I would like to thank the Always in Our Thoughts for supporting COPS."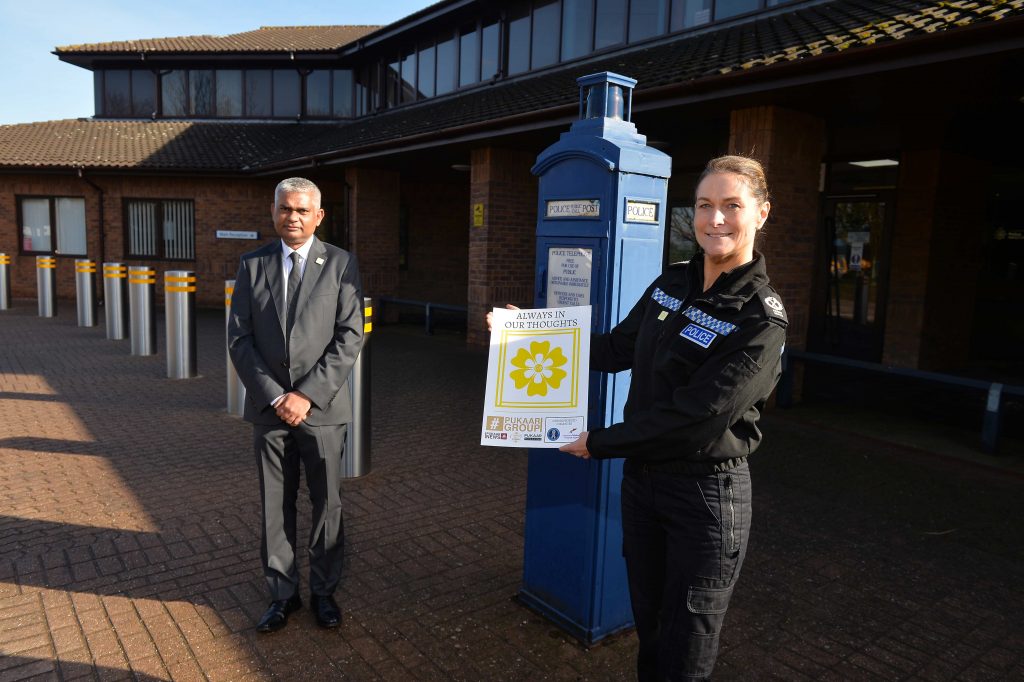 Patron of The Leicestershire Children's Hospital Appeal and Lord Lieutenant of Leicestershire, Mike Kapur OBE said: "As Patron of Leicester Children's Hospital Appeal, I am thrilled that the Always in Our Thoughts campaign has chosen to support us Leicester Children's Hospital Appeal. The difference this support will make to the lives of local children over the next five years will be felt by the communities of Leicester, Leicestershire and Rutland for a long time to come. Despite the appalling impact Covid-19 has had, and will continue to have on many peoples' lives, the development of the East Midlands first ever dedicated children's hospital, here in Leicester, is such an optimistic project to get behind. The NHS has never been more in the forefront of all our minds and I look forward to wearing my flower with pride."
Romail Gulzar, founder of Pukaar Group and the Always In Our Thoughts campaign said: "We are incredibly humbled by the support we have received so far. The response from the public has been incredible and we are optimistic that this campaign will be a pillar of positivity as we remember the last year."