It's amazing to think that the idea for the Always In Our Thoughts campaign started only a month ago, at the beginning of February. In such a small space of time, this idea has flourished into a far-reaching campaign, with supporters and sponsors promoting the message of the C19 Flower Badge.
But what is that message? The idea came from an overwhelming desire from our founder, Romail Gulzar, to show solidarity with those that work, day-in day-out on the front-lines to keep others safe during the pandemic, and to have a way in which we can all remember those that have been lost to this horrendous virus. All of us know someone that has lost their lives, or those that have lost a loved one to the coronavirus and we feel that it's incredibly important to show that they will always be in our thoughts, no matter what.
Wearing the C19 Flower Badge is a mark of respect for this cause, and the aim is for everyone to wear these badges with pride to encourage others to partake in the display. This campaign is running across the month of March and beyond, to mark the anniversary of the first UK lockdown on the 23rd of March 2020. We intend to run this campaign for many years to come, as remembering those that have been lost is a timeless act.
So far, we have received an incredible amount of support and endorsements from businesses, community figures, the general public, and civil servants. All sorts of businesses and establishments are selling our badges now. Indian restaurants, newsagents, hospitals, estate agents, and solicitors, are all taking part in displaying these badges and collecting donations.
We also recently received a letter from 10 Downing Street, as a show of support for the campaign from Prime Minister Boris Johnson.
The community has been incredibly welcoming to the campaign, and we have had orders of the C19 badges from across the country, from Exeter to Sheffield—we have sold well over 3000 badges already.
One notable supporter of the campaign is community champion Suleman Nagdi, a voluntary community advocate. He said: "As a community advocate for over three decades, I wanted to personally reach out to help support "The Always in our Thoughts" campaign. I want to appeal to the team's generosity and kindness to assist in this work, where they are trying to alleviate the devastation caused by the Covid-19 pandemic.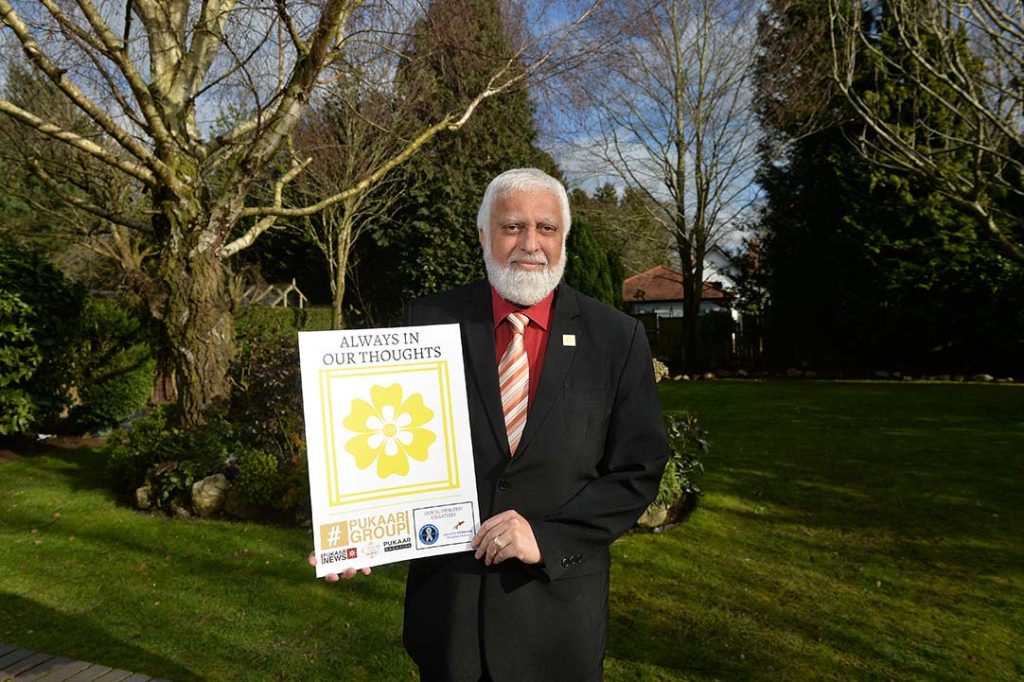 "The funds collected will support the Leicester Children's Hospital Appeal and for (COPS) Care of Police Survivors Charity. Both charitable initiatives will seek to provide practical and emotional support ensuring survivors get help to cope with tragedies.
"It's admirable that all proceeds will go towards charitable use and no money will be deducted for costs or administration charges.
"This will underline our own commitment to support our diverse communities and help to build a better life to all our service users in Leicestershire & Rutland who deserve the best during such tragic and challenging times.
"The challenges of this on-going crisis continue, and so must community fundraising. We face the evolving challenges of the COVID-19 pandemic into the future. Your donations to the Always In Our Thoughts campaign and other similar fundraising appeals create hope and opportunity within our community."
Click here to see how you can get involved, and how you can get yourself a C19 Flower Badge to help us continue this life-changing work. Share this vision and support the memory of those that have been lost by wearing your badge with pride.
Thank you.
Published on 2/03/2021